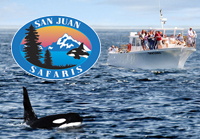 Whale Watcher on San Juan Island

By Christopher Livesay
March 29, 2009, 8:30 a.m. Eagle Cove, San Juan Island, looking south
Twenty-five saltwater miles across the Strait of Juan de Fuca, the Olympic Mountains are out in all their topographic glory this morning, rising west of Admiralty Inlet and Port Townsend, ascending through old-growth forests to their Mount Olympus pinnacle just shy of 8,000 feet above Dungeness Spit and Port Angeles, and then tapering off westward some 75 miles to Cape Flattery, the northwest terminus of Washington State and the continental United States. The usually haze-obscured foothills of the Olympic Peninsula reveal suspiciously symmetrical patches of white snow, clear-cut indications of where Olympic National Park ends and the logging begins.
Spring has finally come to San Juan Island, the season when islanders start gazing expectantly down the vast expanse of the Strait of Juan de Fuca toward the Pacific Ocean, the direction of return. The island's most famous seasonal residents, orcinus orca (aka killer whales), could show up any day now. And thousands upon thousands of visitors will follow in their wake.
If there are orcas in the strait this bright, near-windless morning, the telltale signs will be hard to miss: the rising black dorsal, the blow-hole blast that's not just another whitecap, the unmistakable full-breach cannonball. These are the creatures that draw visitors to this stunningly scenic, far-flung corner of Washington State from all over the world. When it comes to orcas in the wild, they're a sight you have to see to believe. Some say, they're a site you have to see to truly understand. No photograph, film clip, or jumbo-size fish tank can contain their magnificence.
Friday Harbor, San Juan Island
In the modest-but-cheerful dockside office of the San Juan Safaris ecotourism company, owners and founders Bill and Colleen Wright are gearing up for the 2009 orca watching season. Washington State Ferries' accelerated spring sailing schedule begins March 29th, and in this part of the world that's pretty much the official starting gun for the tourist season. Next Saturday, April 4th, San Juan Safaris begins taking groups of 40 or fewer people on guided orca watching tours in the waters around San Juan Island.
Outside their office window, docked in a boat slip a 100 feet from the Friday Harbor Ferry Landing, the Wright's new, 55-foot whale watching vessel, the Sea Lion, is ready for the season. Especially designed for maritime ecotourism, the Sea Lion embodies the Wright's "tread lightly" ethic. Built in Blaine, Washington with Bill's input and oversight, the vessel is a gleaming marvel of fuel efficiency, with a customized hull that reduces resistance, and a single, very quiet engine designed to be as sonically unobtrusive as possible. Onboard, the Sea Lion is fully stocked with dozens of pairs of binoculars, a library of marine life guidebooks, and a submersible hydrophone that enables whale watchers to eavesdrop on orca chatter. A walk-around deck, generously windowed cabin, and extensive outside viewing area with sun cover, assure comfort no matter what the weather's doing. Everything about the Sea Lion, inside and out, suggests that San Juan Safaris is more than a business to Bill and Colleen Wright; it's a labor of love.
It is. Bill Wright, 64, is not just some guy who bought a boat and started chasing orcas around the strait for profit. Turns out he has a long and distinguished record as an environmental activist and ecotourism pioneer. His "non-consumptive" approach to wildlife is a deeply embedded ethic that goes back more than 40 years. And in Wright's view, there's room to be a good businessman and a responsible steward of the environment too. In a letter submitted to a 2002 United Nations forum on the subject, Wright defined ecotourism as "the marriage of an altruistic mission to an economic model" and "a platform for responsible capitalism." The Wrights are living proof that such things are possible.
"We truly are an American success story," says Bill. "We believe in the free enterprise system. And we feel that we're responsible capitalists. But we don't just want to talk about it. We want to live it." So, while Bill runs a highly successful whale watching business, he also walks what he talks, environmentally. He's on the board of People for Puget Sound, a non-profit citizen's group working to protect and restore Puget Sound and the Northwest Straits. He worked closely with the National Oceanic and Atmospheric Administration (NOAH), the San Juan Island Whale Museum, and the Center for Whale Research in Friday Harbor to establish a set of industry-standard whale watching guidelines. ("Our philosophy is to observe but not to interfere with orca behavior," he says.) And, determined to reduce the threat of an oil spill in the Strait of Juan de Fuca, Wright spent five years lobbying the State of Washington to fund a year-round rescue tugboat stationed at Neah Bay, an effort that finally met with success in early 2009. (The Neah Bay rescue tug begins 365-day duty on July 1st, 2009.)
Call it altruism or enlightened self-interest, but as the first guide to offer eco-tours of Alaska's Prince William Sound in years preceding the 1989 Exxon Valdez oil spill, Wright has a firm basis for his belief that "You have to give back to the environment. You have to try to leave things better." This is not the fervor of the newly converted. In his youth, Wright was influenced by wildlife documentary pioneers Marlin Perkins (host of Mutual of Omaha's Wild Kingdom) and French oceanographer/environmentalist extraordinaire Jacques Cousteau. "Suddenly, there was this new ethic about watching animals instead of hurting them," says Wright. That ethic would inform the rest of his life.
In 1972, Wright took a job as a park ranger in the Chugach State Park and Kenai/Kodiak Park District, based in Anchorage, Alaska. Ultimately, he was promoted to Park Superintendant, responsible for more than 750, 000 acres of Alaska park lands. At the time he was also the Chief for the Alaska Youth Conservation Corps, heading up environmental conservation camps and projects across Alaska, working with 144 young people and 30 adults. The job became a springboard for change.
"In the early seventies, there was an emerging interest in wildlife—especially whales," says Wright. "The whole thing was evolving, but the Alaska Department of Fish and Game was reluctant to understand that there was a non-consumptive constituency developing. They were stuck in the past, thinking about wildlife as something to harvest. I was in the middle of it, managing the park and trying to get ecotourism started." Around this time, Wright took several trips to Africa and went on wildlife watching safaris on the Serengeti, which showed him a working model of how to manage wildlife for viewing not just consumption. "They were way ahead of Alaska at that point," he says.
Ultimately, Wright successfully promoted an ecotourism model within the park system. Among other achievements, he worked with the Alaska Department of Fish and Game to get the Kenai River designated a catch-and-release river (a bold, new idea in that hook-'em-and-cook-'em era). He also used his life's savings to create and lead natural history safaris in the parks and went on to found Alaska Fishing & Wilderness, Inc. (now Alaska Wildland Adventures). He still has partial ownership of a fishing lodge on the Kenai and is proud of the fact that the river continues to sustain a healthy fish population.
Wright left the cold of Alaska in 1986 to set up a whale watching operation in Kona, Hawaii, where he met his wife Colleen. The couple moved to San Juan Island in 1995, started conducting kayak tours, and ultimately established San Juan Sarfaris, which continues the tradition of non-consumptive, non-obtrusive wildlife viewing. To keep the tradition alive, the Wrights hire young guides with a real passion for whales. "One of the reasons people like to go on our boats is that it's an authentic experience with our naturalists," stresses Wright. "They're not pretending. They're not on stage. They just love what they're doing. It can't be a job; it's got to be a passion."
It's certainly not hard to find people with a passion for orcas in this part of the world. The orca has been a central figure in Pacific Northwest native art and mythology for centuries. In recent decades, of course, they've become a recurring pop-culture splash, thanks to the Free Willy franchise. (To date, all three Willies were filmed in Pacific Northwest waters, from Astoria, Oregon to White Rock, British Columbia, just across the Strait of Georgia from the San Juan Islands.) Suffice it to say, the orca is a full-blown icon in the Pacific Northwest. This geo-centric association often obscures the fact that orcas have the widest range of any species of cetacean, an order that includes whales, dolphins and porpoises.
Orcas swim the Pacific, Indian, Atlantic, and Arctic Oceans. They can be found in the extremes of both the northern and southern hemispheres, deep inside the Arctic Circle and as far south as Antarctica. And their habits are as diverse as their habitats. Case in point, some of the Washington State and British Columbia pods are "transient" (migratory) and some are "resident" (non-migratory). (Though whale watchers like Bill Wright prefer to operate tours when the transient pods arrive and swell the resident population to a level where it's easier to find them—a phenomenon which happily coincides with the arrival of warm weather and the tourist season.)
A common misconception, no doubt perpetuated by the name "killer whale," is that orcas are, well, whales. In fact, they're members of the dolphin family. But the "killer" part? Deadly accurate. They are extremely resourceful and cunning predators. Depending on their habitat, orcas prey on salmon, tuna, herring, seals, penguins, sea turtles, and even moose, elk, or deer, if they catch them swimming—which they sometimes do. Orcas can also spot prey on beaches and ice flows by spy-hopping, a vertical holding-pattern maneuver that enables them to suspend the upper half of their bodies above the water at will. A friend of mine who is a long-time resident of San Juan Island once saw an orca partially beach itself in a local cove to grab an unsuspecting seal basking just above the water line.
Inexplicably, orcas are generally "friendly" to humans, though it's not a smart idea to test their good will by swimming with them. This chummy relationship is a relatively new development. In past centuries, Pacific Northwest orcas were prey for whalers. And not all that long ago, commercial and sport fisherman used rifles and explosives to deter them from feasting on the local salmon runs. Today, it's illegal for boaters in Washington State to deliberately pursue orcas to close proximity (within 100 yards), and violators can be slapped with a $500 fine. But for many years, the well meaning and the malicious alike harassed orcas by boat: chasing them, trying to take pictures of them or shots at them. So, in many respects, the Pacific Northwest orcas' quality of life has greatly improved. "If some of these older whales could talk, they'd tell you how much better things are now," says Wright with a chuckle. "Still, there are huge pressures on the ecosystem here."
Indeed. Though intentionally malicious harassment is largely a thing of the past (at least in Washington waters), orcas are not out of harm's way. Today, the threat to their survival is more complicated and harder to mitigate. The ever-burgeoning population of the Puget Sound urban corridor, runoff from nonpoint source pollution (i.e. storm drain water, pesticides and fertilizers from farms and lawns, motor oil from streets and parking lots, etc.), and the decline of migratory salmon populations puts them at increasing risk.
If you want insight into how complex the situation is, just watch the maritime traffic in the Strait of Juan de Fuca as you wait for the orcas to show. You'll see tugboats hauling log booms and barges. Giant container ships moving goods from all over the world. Cruise ships so big they look like skyscrapers floating on their sides. Oil tankers sailing to and from the Anacortes refineries on Fidalgo Island. The Black Ball Ferry Line going back and forth between Port Angeles and Victoria, B.C. Patrol vessels from the Dungeness Coast Guard station making the rounds. Fishing boats dropping and hauling their nets. And a wide assortment of seaplanes, sailboats, tour boats, pleasure craft, and kayaks. The Strait of Juan de Fuca is many things to many people: Scenic waterway. Fishing ground. Playground. International shipping lane. Gateway to Puget Sound, Alaska, the Inside Passage, the Pacific Rim, etc. Salmon super highway. Orca thoroughfare. And a still-vital but increasingly vulnerable marine habitat.
Of course, sometimes it's possible to forget all that for a peaceful moment and just appreciate the Strait of Juan de Fuca as a stunning, if complicated, beauty. Enshrined by mountains, changing chameleon-like from dark slate blue to deep emerald green, sparkling with reflected sunlight, dappled by cloud cover, roughed up by the wind, crisscrossed by wakes, pushed and pulled by tidal currents, spun in the eddies, moving in a dozen directions simultaneously—this is a singularly mesmerizing body of water.
But there are no easy answers here. Bill and Colleen Wright believe that one of the best ways to build public support for conservation is to help people directly experience wildlife in its native habitat. And they've dedicated their personal and professional lives to that belief. "Just looking at a picture of an orca isn't going to do it," says Colleen. "When you see orcas in the wild, you begin to understand. That's when you really get them into your heart and your consciousness. And that's when things change."
It's a start.

San Juan Safaris

800-450-6858 or 360-378-1323
San Juan Safaris specializes in small-personalized tours. They are noted for their expert & friendly naturalist guides, attention to detail & respectful wildlife viewing. The owner has over 30 yrs experience in eco-tourism.
www.SanJuanSafaris.com


To top