Find hotel rooms discounted up to 65% off or locate rooms for sold out dates in over 8000 cities worldwide.

Example: Seattle,
WA, US

Check rates from more than 60 different rental companies at nearly every major airport.

Enter a search city

Example: Las Vegas, NV, US

Search for international and domestic flights with discounts direct from our consolidators!

Departure City

Depart:




Arrival City

Return:



Washington State's Olympic Peninsula Loop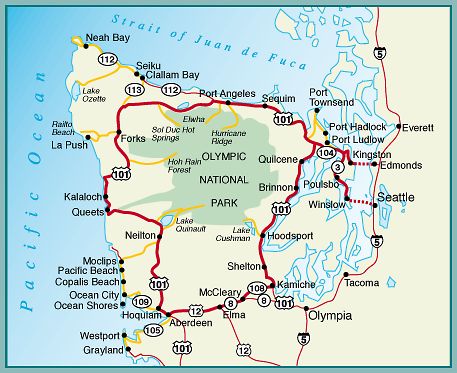 Solitude, Hot Soaks, Native Cultures,
Wildlife, Storm Watching, & Wineries
The Olympic Peninsula is a mecca for travelers from all over the world. Visitors are drawn by the wonders of the ancient rain forests, the wildness of its ocean beaches, and the mysteries of the Hood Canal. Rich native cultures have inhabited the land for thousands of years, and a heritage deeply rooted in logging and fishing is evident at every turn. The National Park, with its majestic mountains, vast glaciers, and wilderness trails, lures hikers and climbers. Rushing rivers, pristine lakes, distinctive wildlife, old growth forests, and magnificent vistas offer unlimited opportunities for fishers, naturalists, and photographers. Isolated and unique, this is a fragile environment that demands respect from every visitor. Always be aware of its delicate nature and tread lightly to preserve this precious jewel. Pet owners should plan to leave their furry friends at home (domestic animals are not allowed on trails in the National Park and Refuges). During the summer months millions of travelers visit the Olympic Peninsula - it is a popular destination for both local residents and out-of-state visitors. Spring and autumn are wonderful times to take this road trip. The crowds are down, and the remote beaches, fog-shrouded forests, and lush, green river valleys offer quiet solitude; wildlife refuges provide sanctuary for a multitude of migrating and wintering birds, and storms pound the coast with thundering surf. The cooler seasons bring color to the native vine maples, ferns, and wild rhododendrons. Along the Hood Canal, seafood lovers can indulge in the fall oyster and spring shrimp harvests. No matter what time of year, in order to capture the true essence of this magical place, take your time, explore its natural wonders in-depth, get off the beaten path, and visit its towns - each unique in their own way. It is guaranteed to be an experience that will leave lasting memories.

Motorists can access the Olympic Peninsula by several different routes - via car ferry from Seattle to Winslow, Edmonds to Kingston, or Whidbey Island to Port Townsend; by driving north on SR 16 out of Tacoma, connecting with SR 3 at Bremerton, or taking US 101 from Olympia. This road trip covers as much ground as possible beginning in Seattle, following the US 101 loop around the North Olympic Peninsula and along the Pacific Coast, visiting Grays Harbor, and finishing up by driving along the western shore of the Hood Canal, through historic Port Gamble, to Kingston where you return by ferry to Edmonds. Plan, at the very minimum, a 2-day excursion. There are accommodations of all kinds along the way - from campgrounds and cabins to motels, lodges, and B & Bs. Refer to our City or Map Indexes for their listings.

Board the Washington State Ferry to Winslow at the Coleman Dock on Seattle's waterfront. Stop for a stroll around this quaint village, then follow SR 305 out of the town. Wine lovers should stop at the Bainbridge Island Vineyards & Winery; its winemaker specializes in European-style wines available only at their tasting room. The Rich Passage Winery, which specializes in hand-crafted, barrel-fermented premium wines, is located on Day Road off SR 305; call (206) 842-8199 for an appointment. Cross over the narrow Agate Passage, and stop off at the Port Madison Indian Reservation. This is the burial site of Chief Sealth; take in the Suquamish Museum and its famous "Eyes of Chief Seattle" exhibit. Then proceed to the Scandinavian town of Poulsbo, situated on picturesque Liberty Bay. Take the time to visit its historic downtown district - filled with specialty shops and bakeries, and home to the famous Marine Science Center. For those who are intrigued by submarines and the underwater world take a short side trip to Keyport to explore the fascinating exhibits at the Naval Undersea Museum. Join up with SR 3 heading north to the Hood Canal Bridge, gateway to the Olympic Peninsula. This is one of Washington's famous floating bridges, and, undeniably, the most scenic. However, on occasion it will close temporarily due to high winds on a stormy day, or to allow the elusive Trident submarine to pass through.

Head west on SR 104 across the Hood Canal; just after the bridge on the right is Paradise Bay Road. For travelers who want to visit the Victorian seaport town of Port Townsend, this is an especially scenic approach. Drive along the water through the resort community of Port Ludlow and the friendly village of Port Hadlock, then follow SR 19 to its juncture with SR 20 north to Port Townsend. You can spend several hours touring the area; historic Victorian homes and B & Bs sit on a bluff overlooking Admiralty Inlet; shops, galleries, and restaurants in downtown district offer selections that are distinctly Northwestern. The newly opened FairWinds Winery is located just outside of town at 1924 Hastings Ave. W (call ahead, 360-385-6899). Nearby Fort Worden has expansive beaches with scenic vistas, and a Coastal Artillery Museum and Marine Science interpretive center. Take SR 20 to US 101 and travel west to sunny Sequim.

Stop at the Jamestown Native Gallery on Sequim Bay. As you enter Sequim, watch for signs to the Neuharth Winery. It makes its home in a huge 1930's dairy barn where visitors can sample their "dinner" and proprietary wines in the afternoons, Wednesday through Sunday. Just west of town take the Taylor Cut Off Road; follow the signs to the Lost Mountain Winery, nestled in the foothills above Sequim; it specializes in natural reds styled after the winemaker's Italian ancestors; but, be sure to call ahead to make arrangements for a visit. 5 miles northwest of town, off Kitchen-Dick Road, is the Dungeness National Wildlife Refuge; located on the Dungeness Spit. This is a major wintering ground for brandt and other waterfowl.

The seaport town of Port Angeles is your next stop. Stroll along the bustling City Pier; visit the Arthur D. Feiro Marine Lab; or hike the Waterfront Trail out along the scenic Ediz Hook. Travelers to Victoria B. C. can catch a ferry here. The downtown district offers an array of galleries, antique shops, and restaurants. Camaraderie Cellars, which features limited productions of premium Cabernet Sauvignon and Sauvignon Blanc, is located just west of town off US 101, on Benson Road; visitors are welcome if they call ahead. Follow Mt. Angeles Road (watch for signs) out of town to Hurricane Ridge - a short 17-mile drive to the top. The Olympic National Park Headquarters and Pioneer Museum and Visitor's Center are on the way; be sure to stop to collect valuable information, maps, and any necessary permits. You'll be climbing to 5,230' (snow could be a factor in late fall and winter) where there are awesome views of Mt. Olympus and the park's rugged interior; on a clear day look north and see far across the Strait of Juan de Fuca to Canada. There are several short trails along the ridge that will take hikers to great vantage points.

Sol Duc Falls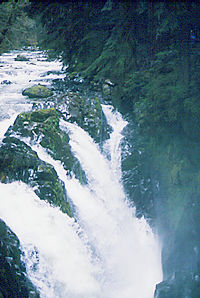 Get back on US 101 heading west. Watch for the Elwha River Road; follow it up the valley, going right at the fork, for about 9 miles until it ends; then park and walk 2.5 miles along an old road bed to the Boulder Creek Campground (if snow is on the ground it could be as much as a 4-mile hike because the Park Service maintains this road in winter and it may not go all the way to the end). This is a steep hike, but you will be rewarded with breathtaking mountain and forest views and several hot springs bubbling out of the rocks - one overlooks a waterfall. Enjoy a soothing soak before returning to the highway. Now just two lanes, US 101 passes Lake Sutherland, then winds around the south shore of beautiful Lake Crescent, nestled at the base of emerald green mountains. Park at the Storm King Ranger Station to stroll along the shore or take an easy hike to the picturesque Marymere Falls. Scenic 90-minute boat tours are available at Fairholm in the summer and fall. For those travelers who prefer not to rough it, take the 12.6-mile drive up to the Sol Duc Hot Springs Resort, situated on the Sol Duc River in the Olympic National Park; it offers hot mineral baths and massages. It's open daily May through September, weekends only in April and October, and then closes in the winter (the road in not maintained in winter). This is an exceptionally beautiful valley; plan to hike along the river to the Sol Duc Falls (just 1 mile up from the end of the road).

Washington's
TOP TEN "Must See"
Attractions

More Breathtaking
Top Destinations

Very Special Places
Accommodations At Some Best Of Washington Destinations.

Ferry Schedules

Traffic

Washington State
Travel Videos

Washington Skiing
& Winter Recreation

Pass Reports


Advertising Information